Dindigul Travels :: Dindigul to Palani Tour Trips
Prince Travels in Dindigul have available Tempo travels and All kind of Cars like Indica,Innova and Tavera and Swift is very cheap reats for your trip and tour trips.Please check following models vehicles in Prince Travels.Dindigul Travels is a competent name among Dindigul car rental agencies in the city. We have great pleasure in introducing ourselves as a professionally managed car hire service provider to a wide range of customers from individual clients
Our Regular Trips

Dindigul to Kodaikanal Trip (One Day or Two Days)

Dindigul to Munnar Trip (One Day or Two Days)

Distance and Travel Hours

Dindigul to Palani | 60 Km and 1 Hrs 30 Mins
Time needed for Sightseeing :: 1 Day
About Palani
Palani is home to one of the most sacred shrines of the Lord Muruga, as worshiped in the Hindu sect of Kaumaram. The Thandayudhapani Temple dedicated to Lord Murugan, and regarded one of his Arupadai Veedu (Six Battle Camps), is situated here.[5] The temple is situated atop a hill known as Sivagiri. The Garbagriham is surmounted by a gold gopuram and the walls of the Garbagriham have numerous stone inscriptions describing offerings made by devotees to the temple. Steps are hewn into the rock, besides a wide path meant for the ascent of elephants, up the hill. In addition, a winch pulled railway with three tracks and a rope way are operational. A temple is dedicated to Muruga near the foot of the hill by the name of Thiru Avinankudi which actually forms a part of the six abodes of Muruga (Arupadaiveedu).
Besides this, right at the foot of the Sivagiri is a small shrine dedicated to the god Ganapathi, where he goes by the name Pada Vinayakar. It is common amongst the pilgrims to pay their obeisances at this shrine before commencing their ascent of the hill. Within the town is another temple dedicated to the Goddess Parvathi as Periyanayaki Amman. A short distance from the town is a temple dedicated to Shiva as Periya Avudaiyar. Near the Periya Nayaki Amman temple are two others - the Mariyamman Temple and the Perumal Temple. The former is particularly resorted to in times of epidemics, the goddess there being regarded as the protector against illnesses. The Kannadi Perumal Temple, dedicated to Vishnu, is a small temple situated on a hillock 9 km south of Palani, a short distance from the highway to Kodaikanal.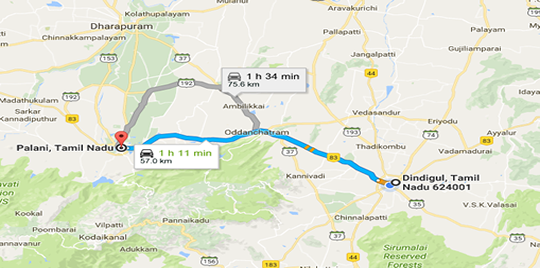 Dindigul Travels Rate and Tariffs Plans

407,Swaraj Mazda,Tempo
2 Day
Dindigul to Kodaikanal
9,000.00
407,Swaraj Mazda,Tempo
1 Day
Dindigul to Kodaikanal
6,000.00
407,Swaraj Mazda,Tempo
2 Day
Dindigul to Munnaar
12,000.00
407,Swaraj Mazda,Tempo
1 Day
Dindigul to Munnaar
10,000.00
Checkout Our full rates and Tariffs Plans
Sight Seeing :: More Places To Visit Kodaikanal

S.No
Visiting Places
S.No
Visting Places
1
Berijam Lake
2
Chettiar Park
3
Coakers Walk
4
Bryant park
5
Kodai Lake
6
Echo Point
7
Kurinjiandavar Temple
8
Green Valley View
9
Suicide Point
10
Pillar Rocks
11
Silent Valley View
12
Cap's Fly
13
Devil's Kitchen
14
Guna Caves
15
Pine Forest
16
Shanthi Valley
17
Silver Cascade
18
Old Suicide Point
19
Bear Shola falls
20
Wax Museum
Dindigul Travels agencies, Our Price Travels in one of the best services allover dindigul city. we are well known experianced hills side tour trips, Prince travels offers maximum in our city famous tourist place such us Kodaikanal and Munnar. These two places are we known all places ver well, we offers cheap rental and also give tour guidence. Prince travels in dindigul give 100% assurance for happy journey and enjoyment every moments in your trips.
Prince Tours and Travels,Dindigul is the best Car,Tempo traveller Rental company in Dindigul,Tamil Nadu, South India having a wide network of offices in many cities. The company renowned for excellence in south India and its over 8 years experience, is the Best car rental services in Dindigul, it's not surprising we are the first choice for so many. We do the cab rental services in all over Dindigul,Tamil Nadu, South India. You can hire our cabs for airport transfers, Local city tours, Group Tours, Students Trips, Official Trips, Outstation tours, Package tours and Vacation tours.